Styling, Craftsmanship, Ergonomics, and Love, are all essential components of every Delta Passion Pen. Each instrument has been designed and meticulously hand-crafted in Naples, Italy.

Delta's Passion Collection combines generations of artistry and innovation with today's hottest fashion colors, accented in hand-made black resin with a perfect ring of white. Delta's Passion Collection Features hand-crafted trim rings that express true love for the written word in sculpted Sterling Silver.
The Passion Ballpoint pen features a specially designed Twist-Advance Mechanism. The cap-type Fineliner accepts a high performance, fiber-tip refill with a built in spring to prolong tip life whether drawing, sketching or writing. The Passion Fineliner easily converts to a rollerball as well. The fountain pen nib is solid 14kt Gold with a Platinum Mask and heart-shaped breathing hole.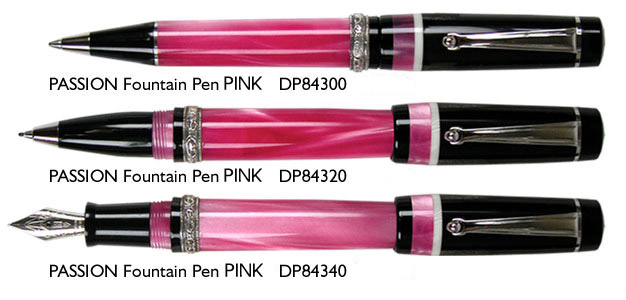 ITEM NUMBER

DESCRIPTION

SUGGESTED
RETAIL

DP84300

PASSION Ballpoint Pen PINK

$275.00

DP84320

PASSION Fineliner/Rollerball PINK

$295.00

DP84340

PASSION Fountain Pen PINK

$450.00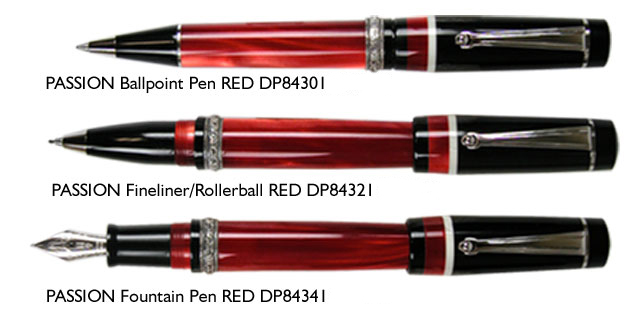 ITEM NUMBER

DESCRIPTION

SUGGESTED
RETAIL

DP84301

PASSION Ballpoint Pen RED

$275.00

DP84321

PASSION Fineliner/Rollerball RED

$295.00

DP84341

PASSION Fountain Pen RED

$450.00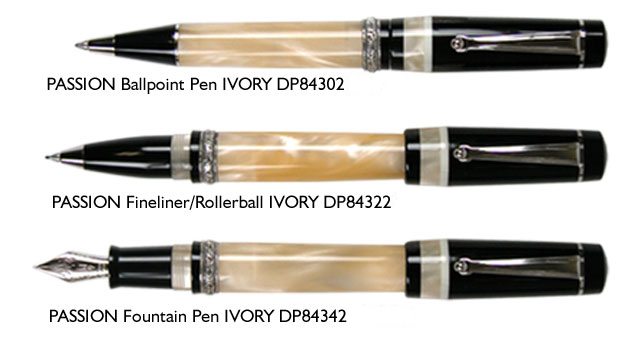 ITEM NUMBER

DESCRIPTION

SUGGESTED
RETAIL

DP84302

PASSION Ballpoint Pen Ivory

$275.00

DP84322

PASSION Fineliner/Rollerball Ivory

$295.00

DP84342

PASSION Fountain Pen Ivory

$450.00
(Nibs are available in Fine, Medium, and Broad. Other nibs can be special ordered. Allow 3 to 4 weeks for delivery of special orders)
Price subject to change without prior notice. For specialty nibs (other than F, M, B) there is a $26 premium charge.