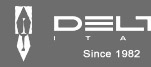 | | |
| --- | --- |
| | |
Due to the great success of the Israel 50 collection introduced ten years ago to celebrate Israel's Jubilee, Delta is now creating the Israel 60 Collection to celebrate the important celebration, Israel's 60th Anniversary in 1948 the nation of Israel declared independence and in 2008 Israel celebrates its 60th anniversary. The clip is made of solid sterling silver .925 (18k solid gold in Celebration) and reproduces the Yad. A Yad, literally "hand", is a Jewish ritual pointer, used to point to the text during the Torah reading. It is intended to prevent anyone from touching the parchment, which is considered sacred. The 2 spheres in the celebration clip are covered with numerous small diamonds.

The Israel 60 collection offers 1948 each of the capless rollerball, 1948 Limited Edition Fountain Pens, 948 Special Limited Edition Fountain Pens (Vermeil) with lateral lever and 60 each of the Limited Edition Celebration Fountain Pens. The Limited Edition features a threaded converter or ink cartridge filling system and the rollerballs are easily convertible into ball pens. The 18-karat solid gold nib is specially designed, customized and is personalized, is available in fine, medium and broad grades. Other point sizes are available by special order.



DI80160 - ISRAEL 60 LTD. EDITION ROLLERBALL (1948 Pieces)
$525





DI80161 - ISRAEL 60 LTD. EDITION FOUNTAIN PEN (1948 Pieces)
$995




DI80162 - ISRAEL 60 SPECIAL LTD. EDITION FOUNTAIN PEN (948 Pieces)
$1,150



DI80163 - ISRAEL 60 CELEBRATION FOUNTAIN PEN (60 Pieces)
$4300

Price subject to change without prior notice. For specialty nibs (other than F, M, B) there is a $26 premium charge.