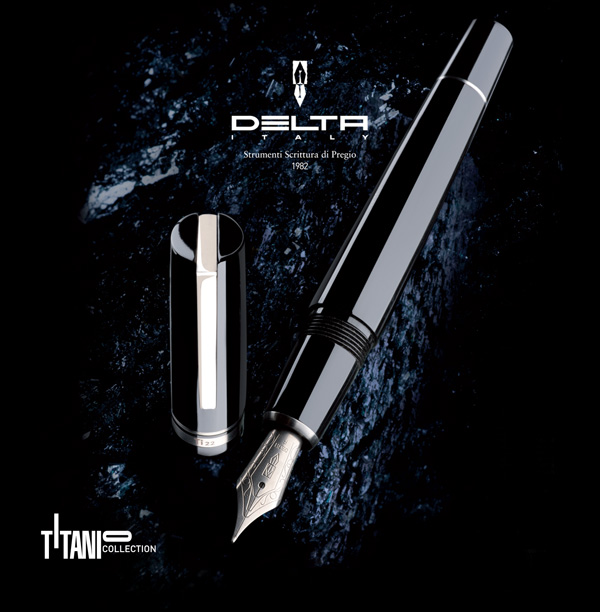 Sporty design and at same time elegant, Titanio (Titanium) is Delta's new collection with a modern stile silhouette.
The Titanio collection is produced from a special black resin turned by hand from solid bars. The trimmings are carved from solid titanium ingots using special tooling due to Titanium's stiffness. The same applies to the innovative nib, which is also in titanium requiring innovative technology to be produced. The result is a nib offering flexibility similar to that of a solid gold nib. The nib is available in fine (F) and medium (M) grades.
The clip featuring a special mechanism to facilitate the placing in the pocket is in a special metal alloy, rhodium plated.
The collection includes a fountain pen (1T), a roller with cap (R) and a ballpen with twist mechanism.
The fountain pen filling system is either by converter or cartridge.
All pens are offered in a dedicated and exclusive packaging.
DT84070 Delta Titanio Ballpoint Pen $250.00 Retail


DT84071 Delta Titanio Rollerball Pen $295.00 Retail


DT84072 Delta Titanio Fountain Pen with Titanium Nib $450.00 Retail

Price subject to change without prior notice. For specialty nibs (other than F, M, B) there is a $26 premium charge.