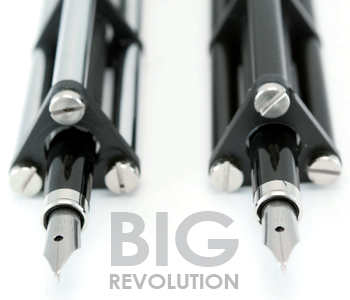 Parafernalia goes BIG! Introducing the Big Revolution; similar in design to the original Revolution but large enough to house a smooth writing fountain pen! In lieu of a traditional capped design, the center portion of Big Revolution detaches from the pen and is simply inverted to start writing. Innovative in both function and design, Big Revolution is also available as a ballpoint, in your choice of two colors: Black and Chrome.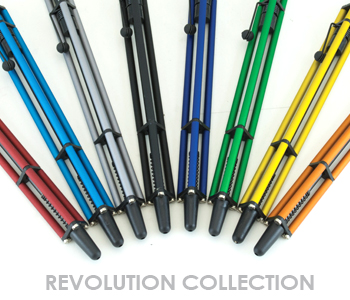 A true measure of good design is how well it stands the test of time. 38 years after its introduction, the Revolution ballpoint pen by Parafernalia looks as modern today as it did in 1978 when the Bee Gees ruled the pop charts. Originally developed by Sergio Carpani to commemorate the construction of the Pompidou Center with its acclaimed exposed structural skeleton design, the Revolution ballpoint looked like nothing that came before, or anything since.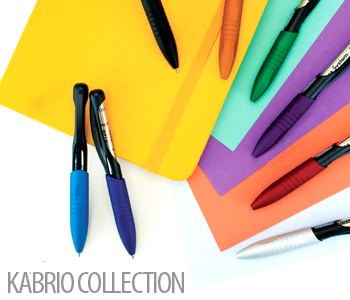 Pocket-sized and minimalist, the open design of Kabrio neatly houses a full sized capless rollerball refill for long life and ultra-smooth writing. The ergonomic grip sections on anodized aluminum are lightweight, durable and utterly functional. Each Kabrio is handmade in Italy by Parafernalias renowned design team and fills with Schmidt 8126 long capless refills.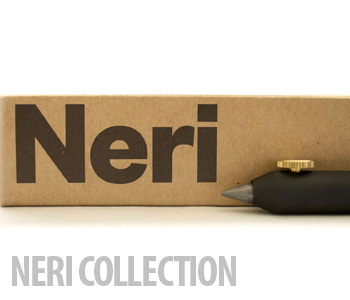 PARAFERNALIA® presents Neri, a family of pens and mechanical pencils designed by Giulio Iacchetti, made of anodized aluminum. Neri is an exercise in absolute minimalism for design junkies and afi¬cionados of writing. Neri falls outside the usual automatic opening/closing systems and the classic cap. Indeed, the placement of the leads and ability to regulate their length — and also that of the pen refi¬lls, a highly unique feature — is done by simply turning the contrasting brass thumbscrew, a technique derived from the gesture for adjusting the points of compasses used in technical drawing. The Neri is available in three distinct colors: black, aluminum and titanium, in both ballpoint and 5.6mm pencil.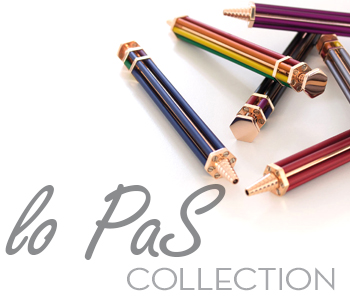 Style, elegance, and creative genius are combined with talent and traditional Italian craftsmanship to create a single work of art; the Lo Pas a unique and unmistakable pen. With a stylistic concept from Lopas and technical engineering from Parafernalia combined, a new pen is crafted with a color range inspired by gemstones and different moods. Since the dawn of time colors have been associated with aspects of our personality, emotion, or state of mind. Passion for red, green for hope, white for purity... Lo Pas is an ideal writing instrument that displays life, mood, feelings, and at a glance, the character of the writers themselves. Each pen is beautifully crafted of precious aluminum rods and then anodized to perfection, plated in rose gold, and offered in 6 unique color palates, each color option symbolic of a series of moods or feelings. It is meticulously hand assembled with 30 parts.